The 2012 GTSDA Awards Ceremony was held on April 24, 2012 at 6:00 p.m. at the Nature Resource Center at the North Carolina Museum of Natural Sciences in Downtown Raleigh.
Four local land development projects received awards on April 24, 2012 from the Greater Triangle Stewardship Development Awards Program.
These winning, innovative projects were recently constructed and include a mix of public and private projects:
White Deer Park, Garner

This local park for the Town of Garner with greenways, interpretive trails, harvested
rainwater, and numerous green building features received a GOLD Stewardship Development Award. The project included Rainwater Harvesting, Pedestrian Crossing, Green Play Areas and Natural Areas.
West Village Phase II Expansion, Durham
This tobacco warehouse redevelopment by Blue Devil Partners with a green roof, innovative stormwater treatment and reuse, and other green design features by Evolution SE, LLC and a visionary consulting team received a GOLD Stewardship Development Award.
The Market at Colonnade, Raleigh

This commercial infill project by Regency Partners and Soil & Environmental Consultants that harvests, stores and reuses rainwater, received an HONORABLE MENTION for Water Quality Protection.
The Courtyard at Duke Hospital, Durham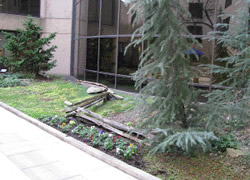 This renovation of an institutional concrete patio into a greener space for recreation and contemplation received an HONORABLE MENTION for Integration with the Community.